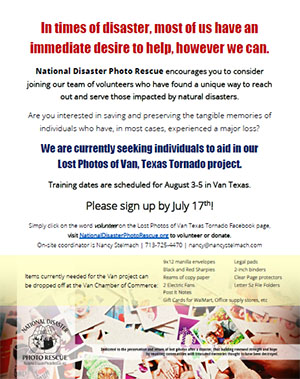 We are thrilled to announce that we will be in Van, Texas August 3 thru August 5 to train individuals interested in preserving and returning photos displaced by the recent tornado.
Several of our directors will be arriving in the early evening on the 3rd and hope to tour the area and will meet in person with our on-site director Nancy Stelmach. On August 4th we will host a training workshop for all volunteers interested in learning more about our program and how to help in Van. We will assist in setting up Van photo rescue procedures and get the ball rolling on cleaning, scanning, and returning the salvaged photos from the May tornado.
Volunteers wanting to participate in the August 4 National Disaster Photo Rescue training should register online by July 17 (click here for the registration form) or contact the on-site director Nancy Stelmach at 713-725-4470 for more information. The workshop will be located at the Van Chamber of Commerce and there is no fee.
Click here to download a PDF file of additional information and needed supplies.
The National Disaster Photo Rescue organization (501c3) formed after the May 22, 2011 Joplin, Missouri tornado and is a ministry of First Baptist Church, Carthage Missouri. National Disaster Photo Rescue is dedicated to the preservation and return of lost photos after a disaster, thus building renewed strength and hope by reuniting communities with treasured memories thought to have been destroyed.
For questions about NDPR, please contact us here.